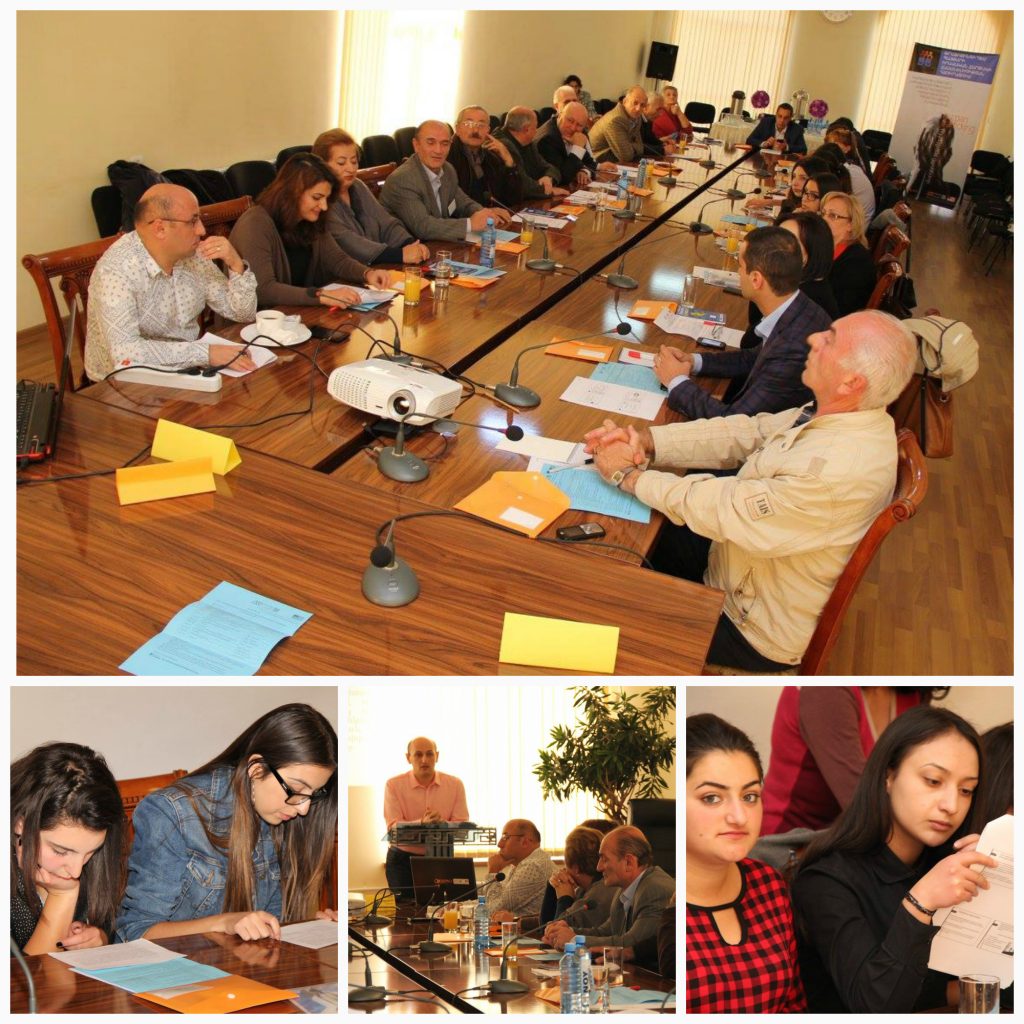 On 15th of October AAVR team organized a workshop for public and private sector professionals, who are involved in labor and employment spheres of Shirak and Lori provinces. The workshop was held in Gyumri city for employment agencies, labor security supervision, social support, legal departments, guardianship centers, employees and students.
The main purpose of the event was the presentation of protection and assistance's mechanisms of the victims that are regulated by legislation. The workshop began with the questioning whether the participants ever met trafficking cases during their professional activities. At the end of the acquaintance it turned out that only one of 25 participants that dealt with trafficking victim.
During the workshop the experts spoke about the support of victims, the exploration of people, personal data protection and about the support programs for the victims of human trafficking. It was also discussed about the skills and behavior of any person who faced a trafficked victim, in order not to harm him/her, taking into consideration all his/her psychological complexes. It was clear, that by the help of queries, discussions, and team-work exercises that the participants got the target information much easily.
Such meetings become tolls for also working group to discover the functions and behavior, strengths and weaknesses of the regulatory bodies for combating trafficking.
Afterwards the experts awared and defined the mechanisms of trafficking, slavery, victims and victims of special category, their assistance and protection, as well as forced labor.
We could note that the information about trafficking victims, forced labor, support and guidance sometimes must be repeated several times, as there are still stereotypes among public employees. The elimination of these stereotypes is the imperative of the day.
The proof above mentioned is the discussion that was held in Gyumri, where the work safety supervision's specialists do not want to accept victim- centered provisions of the new law and continue labeling and detracting trafficked victims and they try to fix their wrong approaches with their own experience.
Experts Arzuman Harutyunyan and David Tumasyan explained that their objective was to transfer knowledge and awareness concerning trafficking issue to able to help and guide victims of trafficking at their workplace.
Maritza Hovhannisyan also took part in this discussion and expressed her point of view for possible the solutions.
The photos of the event are available here:
https://www.facebook.com/pg/Anti-Trafficking-Information-Platform-in-Armenia-815159858497419/photos/?tab=album&album_id=1465404023472996