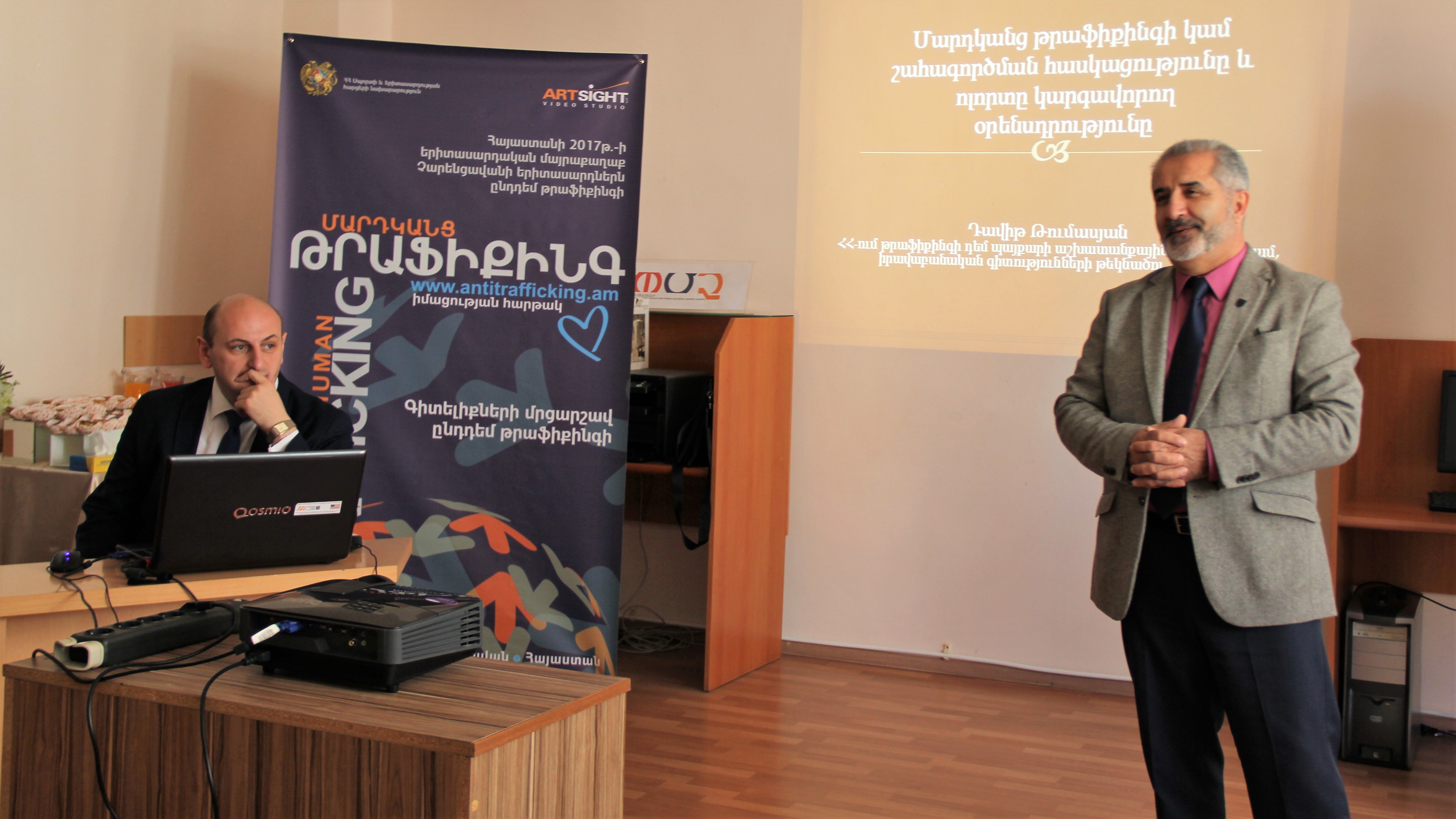 On May 13, "Art SIGHT" studio cooperating with the Ministry of Sport and Youth Affairs launched the "Anti-Trafficking Measures" program, which consists of 2 phases: training and competitive game.
The training was held in Charentsavan (Youth Capital 2017 of RA). The aim of the meeting was to inform and educate youth on the themes of human trafficking, human rights, migration and history/culture of Charentsavan.
The meeting started with the mutual greeting, afterwards the organizers, experts and participants presented themselves.
David Tumasyan (Anti-trafficking Working Group member, Trafficking expert, PhD Professor) asked a simple question: "What is human trafficking?" Not surprisingly, the participants were able to define and explain how they understand and perceive the term "trafficking".
Later D. Tumasyan by presenting statistical data on trafficking asked, whether the participants know any trafficking cases in their city. The youth unanimously answered "no." Of course, the answer was not right, but it was commendable for law enforcement representatives, as it proves their professional and qualified working strategy.
Speaking about trafficking, special attention was paid to child trafficking and the worst forms of child labor. Youth's interest was mostly focused on labor trafficking, sexual exploitation cases and the legislation regulating the sphere.
Lusine Sargsyan (Anti-trafficking working group member, representative of Ombudsman's Office of RA) with the help of participants determined what human rights are. Later, she presented the mission, structure, functions of Human Rights Defender's Office's. Ms. Sargsyan particularly explained practical steps of Ombudsman office during trafficking cases.
She also spoke about human rights' limitation, international laws, agreements and conventions. Here jointly were discussed presumption of innocence and personal data protection of trafficking victims.
Irina Davtyan (Anti-trafficking working group member, Deputy Director of Ministry Of Territorial Administration and Development Of RA State Migration Service, Migration expert) spoke about migration, introduced the required primary documents to travel abroad, work or seek asylum there. She also presented visa and visa types. The training included the issues of citizenship, forced return, deportation, entry barriers and readmission.
On the last part of the meeting Mari Hovakimyan (Vice President of Charentsavan youth organization) drew participants' attention on Charentsavan's history. She talked about old and new buildings, historical and cultural monuments and presented the places of interest of the city.
Lusine Mnatsakanyan, Assistant to Vache Gabrielyan, (The Vice Prime Minister, Minister of International Economic Integration and Reforms of the Republic of Armenia the President of Anti-Trafficking Working Group) attended the seminar and stated that the project is effective and justified for empowering youth with new knowledge and awareness on key issues.
The workshop summarized Arzuman Harutyunyan (Anti-trafficking Working Group member, Director of "ART SIGHT" studio, expert), who thanked the Ministry of Sport and Youth Affairs for efficient cooperation of empowering youth. A. Harutyunyan gave answer and explanation to participant's questions by guiding and motivating them to increase awareness and improve knowledge on above mentioned themes.
The participants are given 2 weeks to strengthen new knowledge and prepare for the upcoming game. Given targeted presentations and web links about trafficking, human rights, migration and culture will help the participants to prepare better and gain the expected results during the game.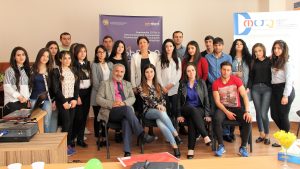 The competitive game will be held on 27 of May. During the game we expect the active participation of fans and Media Representatives of Kotayk province.
The photos of the events are available here: https://goo.gl/g4HCVI
Presentations of the seminar: https://goo.gl/uYxXQw