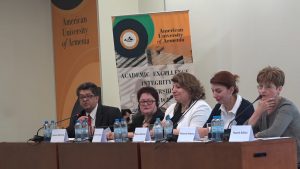 On April 21 and 22, the American University of Armenia (AUA) organized and hosted a conference on the empowerment of girls and women in Armenia. The two-day event brought together students, faculty, civil society representatives, successful female entrepreneurs, community leaders and members of the public and private sectors. Over 50 speakers from Armenia and around the world offered a holistic perspective on the status and role of girls and women in Armenian society, including in the military, workplace, healthcare society, and society at large. The goal of this conference was to determine the scope and consequences of gender-based discrimination in Armenia.
The conference was organized by Shakeh Kaftarian, who arrived as a Fulbright Visitor-Specialist. In her opening remarks, Conference Chair Dr. Shakeh Kaftarian noted that "the conference is dedicated to learning about the immediate and long-lasting impact of gender inequality, discussing local models, which have been effective in enhancing female empowerment and learning about international strategies addressing women and gender studies, along with their records of sustained success." Dr. Kaftarian believes that a continuous effort must be made extending beyond the conference in order to put Armenia on the path toward gender-based equality in healthcare, employment, economic strength, as well as participation in social and political life.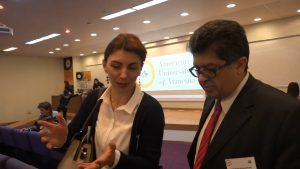 AUA President Dr. Armen Der Kiureghian emphasized that, "Today in Armenia, of 18 government ministers, two are female and, of 131 members of the Parliament, only 13 are women. In the private sector, while a growing number of top managers are women, many of them AUA graduates, the ratio is still dominated by men. Clearly, there is an enormous pool of human resource and talent that is not fully tapped. This conference aims at examining ways to empower girls and women in Armenia, so they can more fully contribute to the economic and social advancement of Armenia."
Human trafficking issue as a social significant problem also took place in the conference room.
During one of the conference panels the head and members of the Working Group of Anti-trafficking highlighted trafficking problems by presenting the activities and functions of RA departments, as well as the positive results of cooperation between public sector and NGOs. In the spotlight of the discussion were the identifying, returning and reintegration issues of trafficking victims, the offered services and packages.
GRETA expert, UMCOR consultant Gulnara Shahinian, expressing her gratitude for the invitation, commented to be happy talking about women's capacity building, as speaking about trafficking it is worth mentioning that women are more vulnerable.
Mrs. Shahinian particularly mentioned: "Human trafficking or as it is known, "White slavery" in complete violation of human rights, the exploitation of vulnerable situation. Whereas before we were talking only about the sex trafficking of women, now men and children as well become trafficking victims. As you know, nowadays except sex trafficking is known labor trafficking or forced labor, trafficking of organs and tissues and child trafficking". Mrs. Shahinian gave a great importance to Armenia's excellent example of fighting against human trafficking, meanwhile indicating of women's and girls' strengthening capacity.
The head of Anti-trafficking Working Group Vahram Kazhoyan noted that the key success of RA is directly reaction and prevention of trafficking in time. Mr. Kazhoyan speaking about RA's public awareness level clarified, that implemented activities in all sectors gained positive results thanks to cooperation and coordination of Anti-trafficking working group member organizations.
Mr. Kazhoyan giving huge importance to information flows in fighting against trafficking determined: "We are working by obtaining information from different sources and no information is neglected. Here's exists www.antitraffikcing.am website, which has the opportunity of feedback and hotlines and even received negligible alerts get appropriate response and treatment."
Victoria Avakova (The coordinator of Combating Human Trafficking Program of UMCOR Armenia NGO) by real stories presented the status and limited opportunities of victims' out of RA borders. She also explained how the readmission is implemented and trafficking victims reintegrate into society.
Mrs. Avakova especially highlighted the work carried out by RA Government, international and non-governmental organizations, functions, fields of cooperation. He also presented a package of assistance to victims of trafficking. Mrs. Avakova especially highlighted the work carried out by RA Government, international and non-governmental organizations, their functions and fields of cooperation. She also shared information about the package of assistance to trafficking victims.
Eleonora Virapyan (Representative of RA Ministry of Labor and Social Affairs), presenting the statistical data on cases of trafficking, clarified that labor trafficking victims are both men and women and destination country mainly serves the Russian Federation.
Speaking about child trafficking, she pointed out several cases of exploitation of minors involved in begging and forced labor who lived in inhumane conditions, were deprived of education and essential living conditions.
"Presenting trafficking cases by numbers worth to mention that last year we had 24 victims of labor trafficking: 20 men and 4 women, being exploited in Russia. Some people have been helped to return to Armenia. The process continues. "
Mrs. Virapyan attached importance to legislative reforms, speaking about the identification and protection of trafficking victims, current system and partner organizations, noting that: "Identification Commission consists of 7 members: 2 representatives from the Ministry of Labor and Social Affairs, 1 from the Police, 1 from General Prosecutor's Office, and 3 from the NGOs."
Hasmik Edilyan (Representative of "Democracy Today" NGO) pointed the obstacles of prevention, detection and reintegration of trafficking victims. Here particularly paid attention not to recalling the possible consequences of the issue from early childhood in educational system.
Turning to agricultural system, Mrs. Edilyan mentioned the legislative gaps that do not regulate the existence of monitor exploitation in agricultural activities.
The conference gave opportunity to reflect once again the problems of human trafficking where women and girls take major place. During the conference great importance was given to strengthening and expanding opportunities for women and girls as the best variant of combating and preventing of Human Trafficking.