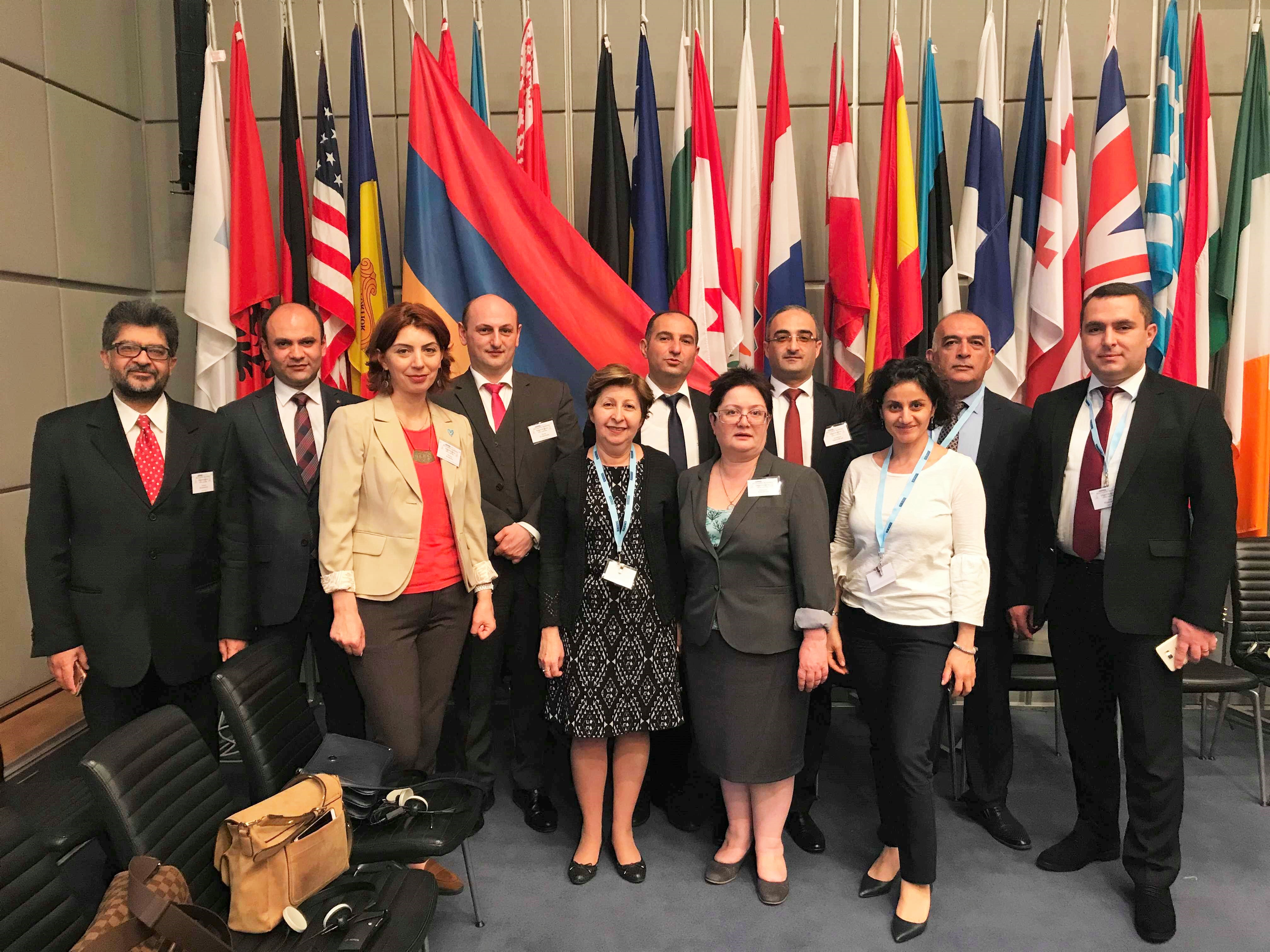 11 representatives of the Armenia's Working Group on Combating Human Trafficking, led by the head of the group Vahram Kazhoyan, participated in the 18th OSCE Alliance against Trafficking Conference entitled "Everyone has a Role: How to Make a Difference Together", on April 23-24, 2018 in Vienna. The delegation's participation was sponsored by the US Embassy's International Narcotics and Law Enforcement (INL) Program.
The OSCE participating states shared their experience in combating human trafficking, presented existing issues in this area, as well as highlighted the importance of cooperation and development of realistic and comprehensive strategies and programs by states. Armenia, Mongolia, Uzbekistan, Kazakhstan, Moldova, Bulgaria, Russia, Albania, USA, Italy and other countries shared their experience.
Armenian delegation included representatives of the RA Ministry of Foreign Affairs, RA Ministry of Labor and Social Affairs, RA Ministry of Education, Health Inspectorate of the RA Ministry of Health, RA Prosecutor General's Office, RA Investigative Committee, RA Police and partner NGO specialized in fighting human trafficking .
The working group members participating in this event, obtained information and knowledge which will be useful for the development of the next national action plan (NAP) to fight human trafficking (according to the State order N 726-N of 7 July 2016 on 2016-2018 NAP to combat trafficking in human beings and exploitation, the next three- year NAP should be developed this year). "Everyone has a Role: How to Make a Difference Together" was a useful exercise for members of the working group to consider during development of the new NAP, learning trends and developments available in the OSCE member states, anti-trafficking measures and best practices already launched by other states.
Learning different countries' experiences in combating human trafficking and cooperation ways, particularly in regards to child trafficking cases, all this will allow them to incorporate certain points into the NAP taking into account Armenia's counter-human trafficking peculiarities. In order to increase effectiveness of counter- human trafficking efforts, it will be necessary to pay special attention to the campaign against forced labor and child labor, as well as to the protection of victims of trafficking and exploitation.
During the first panel session of the Conference, Ambassador Kazhoyan made a speech and presented Armenia's experience, recent achievements and plans. Representatives of the OSCE member states highly appreciated the work done. The members of the delegation took part in both the plenary sessions and the side events.